Archive for the 'Calypso/Soca' Category
Revellers kiss big stage
REVELLERS dropped to their knees and kissed the big stage with reverence as Carnival returned to Queen's Park Savannah, Port-of-Spain with a bang yesterday after an absence of several years.
KARENE BEATS VETERANS
FORMER Junior Calypso Monarch Karene Asche yesterday morning became the first woman to win the National Calypso Monarch crown in almost a decade, and in the process made history by taking home the competition's largest ever cash prize of $2 million.
Continue reading 'Revellers kiss big stage'
Karene Asche was crowned 2011 Calypso Monarch, at the Queen's Park Savannah, in Port of Spain, early this morning (March 7). Asche captured the $2 million first prize with her two selections, "Be Careful What You Ask For" and "Uncle Jack". Wade Madray – "Pacific Tsunami" – copped the King of Carnival title. And Peola Marchan – "D Jeweled Chandelier" – was named Queen of Carnival.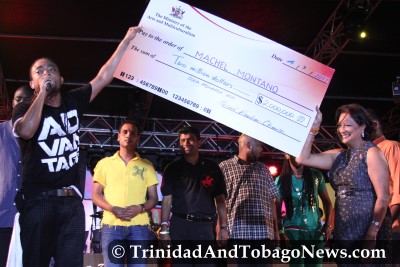 Machel Montano receives Soca Monarch $2 Million Cheque
from PM Kamla Persad-Bissessar at Girl Power Fete
Machel takes Soca Monarch crown
After delivering what many fans consider to be his best performance of the season Machel Montano claimed the two million dollar grand prize in the Power Soca category at the 2011 International Soca Monarch Competition at the Hasley Crawford Stadium last night.
Continue reading 'Machel Montano Wins Soca Monarch 2 Million'
UPDATE: February 21, 2011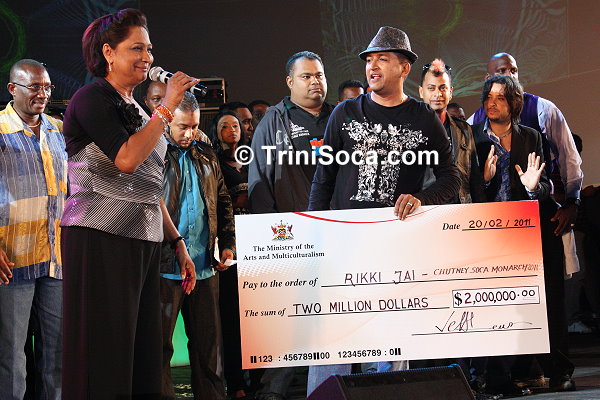 Chutney Soca Monarch Competition 2011 in pictures
Rikki Jai takes $2m Chutney Soca title
Rikki Jai (Samraj Jaimungal) became the first $2 million monarch of Carnival 2011 when he won the NLCB Chutney Soca Monarch competition at Skinner Park, San Fernando, on Saturday night…
Continue reading 'Rikki Jai Wins Chutney Soca Monarch $2M'
Ten primary school pupils will vie for the title of this year's Flavorite Supreme Ice Cream National Schools Soca Monarch. Fourteen secondary school students will also battle for the crown in the secondary schools' category. Following is the list of finalists (in alphabetical order of surname) for the competition which takes place at the Grand Stand, Queen's Park Savannah, on February 25 at 10 am.
Continue reading '24 students vie for schools' soca crowns'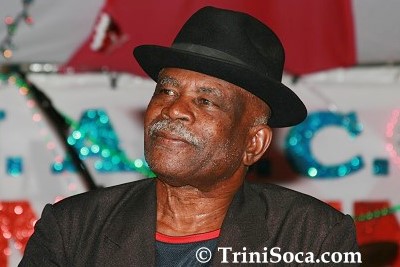 Percy 'Striker' Oblington
Truely an elder in the Calypso artform, Percival Oblington 'The Mighty Striker', died on Saturday 5th, 2011, after being ill for some time. Born in 1930, Striker would be remembered for his long service together with capturing the Calypso King Competition in 1958 and 1959.
Continue reading 'The Mighty Striker Has Died'