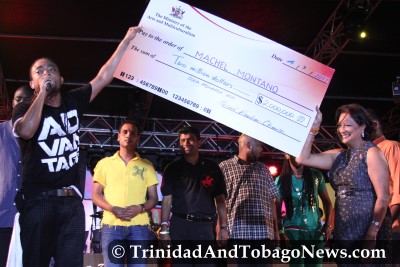 Machel Montano receives Soca Monarch $2 Million Cheque
from PM Kamla Persad-Bissessar at Girl Power Fete
Machel takes Soca Monarch crown
After delivering what many fans consider to be his best performance of the season Machel Montano claimed the two million dollar grand prize in the Power Soca category at the 2011 International Soca Monarch Competition at the Hasley Crawford Stadium last night.

A capacity crowd turned out to see the crème de la crème of soca artistes perform but in the end, Montano's popular song "Advantage", was chosen by the judges and the crowd for the Power Soca title.
Machel, Kes triumph in Soca Monarch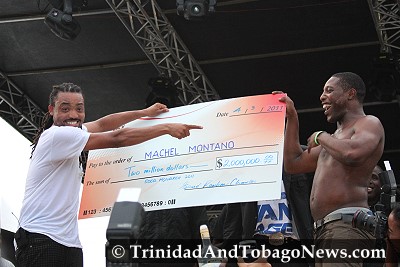 Machel Montano Celebrates Victory with Kernel Roberts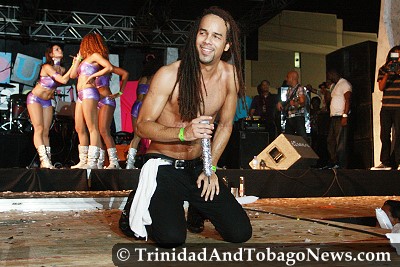 Kes Performs at Girl Power Fete
Machel Montano was crowned 2011 Power Soca Monarch champion at the Hasely Crawford Stadium, in Port of Spain, this morning. Montano topped the field with his Road March contender "Advantage", the Soca star winning two million dollars. Iwer George, Bunji Garlin and Fay Ann Lyons-Alvarez were second, third and fourth, respectively. The Groovy Soca Monarch title and $500,000 first prize went to Kes Dieffenthaller, who sang "Wotless". Benjai was second, Destra third and Blaxx fourth.
http://www.trinidadexpress.com/
Busy Carnival for PM
By Sean Douglas
Saturday, March 5 2011
After attending last night's International Soca Monarch finals, Prime Minister Kamla Persad- Bissessar will join spectators for the Junior Parade of the Bands on the streets of Port-of-Spain and at the Queen's Park Savannah today.
She will also return to the savannah later tonight for the Panorama finals, of which she is a patron.
She was also the patron of the Soca Monarch competition which took place at Hasely Crawford Stadium, Port-of-Spain. Ahead of the announcement of the winner, Persad-Bissessar told reporters yesterday she had a favourite artiste but would not say who…
March 06, 2011
MACHEL'S TRIUMPHANT $2M RETURN… ADVANTAGE!
Soca superstar Machel Montano made a triumphant return to the Soca Monarch arena on Fantastic Friday, advantaging his other competitors on his way to his first bmobile Power Soca Monarch title and the $2 million first prize at the Hasely Crawford Stadium.
Machel Is Monarch
Kees takes Groovy title
Hundreds of patrons booed upon the announcement that Machel Montano had won the 2011 International Power Soca Monarch competition, making off with the $2 million first prize.
Machel, Kees take the big prize
'Wotless' Kees takes $500,000 Groovy Soca crown
'The show was successful'
There were several calls for people to go to the stands since people were being pickpocketed and trampled upon. The house announcer said the show would not go on unless they moved to safer points…