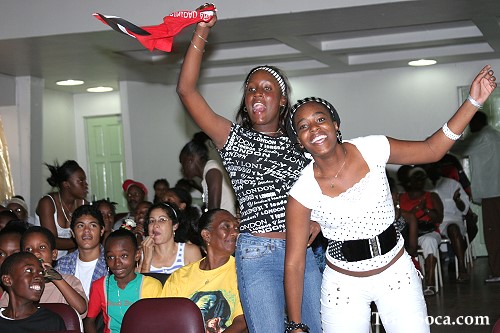 Enthusiastic Audience at Schools Soca Monarch Competition
TriniSoca.com Reporters
Event Date: January 27, 2007
Posted: February 01, 2007
The semi-final round of the Caribbean Prestige Foundation's National Schools Soca Monarch Competition continued its tradition of tough competition by the young participants. Held at City Hall, Port of Spain on Saturday 27th January 2007, the National School's Soca Monarch competition showcased the talent of some young veterans in the Soca and Calypso arenas and some rising stars, hungry to make a name for themselves in a highly competitive industry.

Performances by Shanise Fagan singing, "We Carnival"; Stechelle Hazel with "Shade of Grey"; Jonathan Chedu with "Beware"; Erpahnn Alves with "Street Heat"; Leon Brewster with "To the Right"; and Angel Prescod with "A Songwriter's Life" were clear highlights of the competition with overwhelming crowd response.
The following is a list of twenty five Finalists in "First Name Alphabetical Order":
Artist / School
Adanna Alves & Afeisha Charles / Success Laventille Composite School
Angel Prescod / Presal High School
Aneka Auidian / Sacred Heart Girls R.C. School
Dineka Nelson / San Fernando Govt. Secondary School
Erphaan Alves / St. Georges College
Ferdinand Smith / Valencia South Govt Primary
Garve Sandy / Scarborough R.C. School (Tobago)
Gerelle Forbes / St. Francois Girls College
Jaylana Bryan / Bishop Anstey High School
Johnathan Chedu / Fatima College
Kadesha Vincent / Petiti Valley Girls R.C. School
Keda Tempro / Tunapuna Govt Secondary School
Kenneth Stewart / Tranquility Govt Secondary School
Kimika Forbes / Scarborough Govt Secondary School (Tobago)
Leon Joseph Brewster / Fyzbad Anglican Secondary School
Megan Walrond / Corpus Christi College
Nesta Boxill / Fatima College
Orlando Octave / Obandos Academy
Sache Alexander / Bishop Anstey High School
Shradah McIntyre / Arima Govt. Secondary School
Shalleika Hazell / Melville Memorial Girls Anglican School
Shanise Fagan / San Juan Govt Secondary School
Shantelle Yearwood / Scarborough Secondary School (Tobago)
Stechelle Hazell / International School of Port of Spain
Tenaj Smith / St. Augustine Senior Secondary Comprehensive
The Judges whose task it was to select the young musicians to compete in the finals of this competition were Roland Gordon – head judge, Jenifer Akril – tabulator, Josephine Torrel-Taylor and Judy Noel. Selected competitors will battle it out for the title of School's Soca Monarch on Friday 9th February, 2007, at the Hasely Crawford Stadium.
Schools Soca Monarch Semi-finals 2007 in pictures:
www.trinisoca.com/gallery2/main.php?g2_itemId=52506