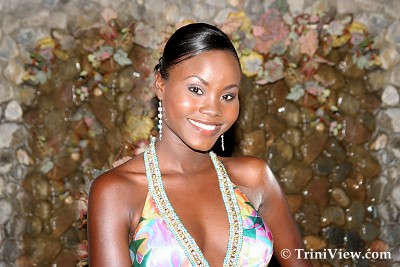 Miss Trinidad and Tobago 2006, Kenisha Thom
TriniSoca.com Staff Article
Event Date: December 03, 2006
Posted: December 07, 2006
The National Youth Action Committee presented its 12th annual Top Twenty Stars of Tomorrow Award Ceremony on Sunday 3rd December 2006, at The Strand, Corner Tragarete Road and Dundonald Street, Port of Spain.

The programme featured twenty of Trinidad and Tobago's brightest young stars that shone in 2006, attaining academic and other successes. The awards recognized multiple musical genres, including: Calypso, Reggae, Gospel and Chutney.
Bro. Akhenaton Daaga, in his address as the Servant Director of the National Youth Action Committee, explained that the NYAC aims to motivate young people to strive for excellence and to recognize those who have attained such excellence. The organization also aims to help the society by promoting the culture of the country and by highlighting the achievements of these young people so that they could recognize their role in society's development.
Eloquent, thirteen-year-old Chocolate Allen, the C.E.O of Caribbean Vision whose organization co-partnered with NYAC to bring forth the NYAC awards ceremony, stated that the cultural arts and all its various expressions can be used to motivate young people to achieve economic and academic success.
His Honour, Mr. Augustus Ramrekersingh delivered the feature address in which he confessed that he had no idea that he was going to "bat" so early. According to Mr. Ramrekersingh, this was the first time in ten years that he accepted an invitation to speak publicly. He did this especially to honour the youth and out of friendship, respect and appreciation for the Chief Servant, Makandal Dagga.
He congratulated the organization for the evening and on having done this work for twelve years starting with the Young Kings and now moving into a new dimension.
Mr. Ramrekersingh praised the achievers and congratulated them for achieving excellence in their various fields of endeavour. But, he warned them that they should never become complacent and advised them to sustain their efforts.
The programme also featured musical performances by those who achieved success in 2006 including awardees: Young King 2006, Sean Daniel; National Calypso Queen 2006, Karene Asche; COTT's Gospel Artiste of the Year, Jadee and others. The artistes were accompanied by Earl Knight and the Services Brass band who did a splendid job throughout the night.
MC's for the night included Dr. Phaedra Pierre, Shirlane Hendrickson and Alpha Obika.
Special Awardees for the night included: Leston 'Young Destroyer' Jacobs, Carifesta IX Calypso Monarch, hailing from Antigua and Barbuda; and Rennie Quow who gained recognition for his outstanding performance in athletics (400m).
NYAC also presented awards to persons who achieved excellence in various fields including academic disciplines, sports, receiving the President's Medal and representing the country on the international level. (See pictures for the awardees and their achievements for 2006.)
Hopefully, the NYAC awards would continue to inspire and motivate young people to achieve excellence in 2007 and the years ahead.
NYAC's Top 20 Stars of Tomorrow Awards in pictures:
www.trinisoca.com/gallery2/main.php?g2_itemId=2629