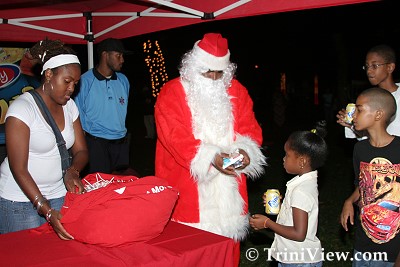 Santa Claus gives away activity books and a few food items to the children
TriniView.com Staff Article
Event Date: December 02, 2006
Posted: December 04, 2006
The formal ceremony celebrating the lighting up of Woodford Square for the holidays took place on Saturday 2nd December, 2006, in Port of Spain, to a crowd of over one hundred. The event started at about twenty minutes to six with an audience filled mainly with children and their accompanying parents.

The ceremony started with the National Anthem sung by Ancil Valley, one of the Digicel Rising Star contestants, who blew the audience away with his fantastic voice.
The MC for the night was Ms. Knycky Cordner who did a good job connecting with the audience, and in particular the children, who responded to her every call.
Downtown Owners and Merchants Association (DOMA) president Gregory Aboud, the opening speaker, thanked the City of Port of Spain Corporation for making Woodford Square the beautiful place that it is today. Mr. Aboud went on to say that at this time, Christians celebrate a child born in very humble circumstances. Thus, according to the wealthy businessman, this should be a lesson that regardless of people's social and financial circumstances they all have a part to play in building the country. He ended by stating that he hopes this type of gathering continues in the future.
Nicole Smith, Marketing Director of Digicel, expressed her delight in being present at Woodford Square and thanked the other sponsors for helping the main sponsor Digicel to bring the lighting of the square to fruition.
His Worship, the Mayor of the City of Port of Spain, Alderman Murchison Brown, lastly addressed the audience, expressing his pleasure in bringing light and happiness to the square. He thanked Digicel and DOMA for working in conjunction with the City of Port of Spain in bringing this event to the public. He finally stated that the lighting of the square showed how corporate citizens and the government can work together for the benefit of the public. At the end of his address, he ceremonially turned on the lights which marked the beginning of the entertainment that followed.
Entertainment for the night was provided by the Codrington Pan Family, the Los Alacranas Parang Band from Paramin and Digicel Rising Stars contestants Jakeisha Sluddlin and Cheryl-Ann Frederick.
There were also a few giveaways including Holiday Foods activity books and snacks given away by Santa Claus and Dasini Water given away by the Digicel workers.
The lighting of Woodford Square is only one of several areas within Port of Spain lit up for the Christmas Season. Many remain hopeful that this lighting would continue to illuminate the city and bring the people of Trinidad and Tobago closer together.
Christmas Lighting of Woodford Square in pictures:
http://triniview.com/gallery/main.php?g2_itemId=87269