UPDATE: February 21, 2011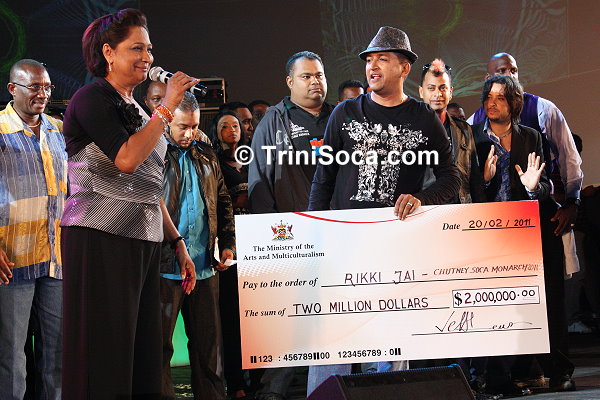 Chutney Soca Monarch Competition 2011 in pictures
Rikki Jai takes $2m Chutney Soca title
Rikki Jai (Samraj Jaimungal) became the first $2 million monarch of Carnival 2011 when he won the NLCB Chutney Soca Monarch competition at Skinner Park, San Fernando, on Saturday night…

Crowd divided over Chutney Soca results
When Samraj "Rikki Jai" Jaimungal's name was announced, there was booing and shouting "nooo" from some sections of the massive crowd who packed into the Skinner Park, San Fernando ground.
Ravi B apologises for behaviour
Dethroned Chutney Soca Monarch, Ravi Bissambhar, has apologised to fans, patrons and Southex Ltd, promoters of the annual Chutney Soca Monarch competition, after inciting irresponsible behaviour from the fans at the end of his guest performance at the show on Saturday night.
Kamla, Gypsy star in Chutney Soca
From a Minister of Govern-ment performing extempo to a soca artiste serenading the Prime Minister with a classic reggae hit, the 2011 edition of the NLCB Chutney Soca Monarch final featured scintillating performances and energetic dance routines that captivated the massive audience at Skinner Park, San Fernando on Saturday night.
***
Ravi B's behaviour 'unacceptable'
George Singh Jr, chief executive officer of Southex, says he is disappointed with the actions of dethroned Chutney Soca Monarch, Ravi Bissambhar, during his guest performance at Saturday night's final.
…Gypsy apologises for Ravi B
Arts and Multiculturalism Minister Winston "Gypsy" Peters has spoken out against Ravi "Ravi B" Bissembhar's incitement of irresponsible behaviour from the audience at Saturday's Chutney Soca Monarch finals in San Fernando.
…Alarming incitement by chutney soca man
***
February 23, 2011
Roodal wants criminal probe in pelting incident
Housing Minister Dr Roodal Moonilal thinks that Ravi "Ravi B" Bissambhar should be criminally investigated for inciting supporters to throw missiles onto the stage at the Chutney Soca Monarch final…
…Moonilal hits Ravi B's conduct
…Now promoters cancel Ravi B Children's Show
…Sore losers
We must first acknowledge that Ravi B apologised for his behaviour at the end of the Soca Chutney Finals on Saturday night. And we note that the apology was contrite and sincere, and we take him at his word that he deeply regrets having called upon the audience to protest the decision which gave his colleague in Chutney, Rikki Jai, the title and the two million-dollar first prize.
Promote non-alcoholic songs
Arrive Alive's Brent Batson has congratulated Rikki Jai for winning the 2011 Chutney Soca Monarch title and the historic first prize of $2 million. Baton, however, warned Jai to take note of the high level of drinking and driving on the nation's roads and suggested he focus on more positive messages in his songs.
***
15 finalists in Chutney Soca Monarch 2011 race
February 10, 2011
After a grueling semifinal round at the Rienzi Complex Couva, and four intense days of both on-line and text voting for the bmobile wild card that accumulated more than 26,000 votes, the names of the 15 Chutney Soca Monarch finalists are finally in. The 15 now move to the final round in the "Race for 2 Million" scheduled for Skinner Park, San Fernando, on February 19.
The 15 finalists are (in no particular order):
Terry Gajraj
Rick Ramoutar
Lalchan Babwah The Hunter
Drupatee Ramgoonai
Veeshal Persad
Vashanle Artle Butkoon
Rikki Jai
Sally Sagram
Anil Bheem
Ravi B
Nirmal Adesh Samaroo
O'neil Bhajman
Neeshan Hitman Prabhu
Kenneth Supersad
bmobile wild card—
Michael "Soca Elvis" Salloum
http://www.guardian.co.tt/news/2011/02/10/15-finalists-race-2m