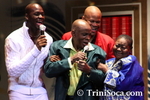 The final curtain of the NAPA FEST, a production of the Ministry of Arts and Multiculturalism, came down on the weekend of July 17th and 18th, 2010, with a memorable Calypso show entitled "Trinidad and Tobago History Through The Eyes of Calypso" in honour of some of our legendary Calypso bards.

The show, which attempted to recapture the image of Calypso from the dawn of the first Calypso King Competition won by Neville 'Growling Tiger' Marcano in 1939 at the Princes Building Grounds (now NAPA) to the year preceding Eric Williams' passing, did so using several manifestations of local entertainment including Calypso singing, theatrical performance and a taste of Steelpan music. This attempt at historical recapture was voiced by Kurtis Gross who opened both nights of the show with a Calypso prologue centered on the origin of this musical genre. Dawned in sharp-looking, 'saga boy' apparel, Gross articulated with a style reminiscent of the sharp and witty tongue of a Midnight Robber, the significance of Calypso in society between 1930 and 1980 justifying almost the relevance of the event's theme.
Following Gross' introduction was the award-winning Trinidad and Tobago musical-drama group, the Jeunes Agape Choir. With voices blending in unison they performed a medley of "Money is King" by Neville 'Growling Tiger' Marcano, "Shame and Scandal" by Fitzroy 'Lord Melody' Alexander and "Never Ever Worry" by Alric 'Lord Pretender' Farrell.
Many of the legends of Calypso who had great success during the 1939-1980 period have since passed. Others, such as Black Stalin are reveling in their success by presenting their musical talents with the rest of the world. Some of our young and upcoming Calypsonians as well as some veterans in the business had the honour of presenting some of these songs to the NAPA audience. These twentieth century Calypso Monarch songs and the artistes that lent their voices to them were: Spoiler's "Pick Sense out of Nonsense" (1955) sung by Fede; Relator's "Food Prices" (1980) sung by Peter Cipriani; Dougla's "Split Meh in Two" (1931) sung by Tracey Donald; Spoiler's "Bed Bud" (1953) sung by Erphaan Alves; Sniper's "Portrait of Trinidad" (1965) sung by Kwesi Jeffers; Mighty Duke's "Black is Beautiful" (1969) sung by Duane O'Connor (preceded by a theatrical presentation of the song by the Players from Creative Arts, U.W.I.); medley of "Joan and James" (1964), "Last Elections" (1967) and "Pan Jamboree" (1966) – tributes to The Mighty Bomber, The Mighty Cypher and The Mighty Terror respectively by the Maisha Zuri Choir; Black Stalin's "Caribbean Unity" and "Play One" by Kurt Allen and Lord Kitchener's "Tribute to Spree Simon" and "Fever" by Winston 'De Original De Fosto Himself' Scarborough.
Fortunate to be present to share their Calypso history were living legends Mighty Striker, Mighty Sparrow, Calypso Rose and Chalkdust. Percy 'Mighty Striker' Oblington was the first of the four Calypso legends to appear on stage. The D'Abadie-born 'Striker', born in 1930, started his Calypso career in the nineteen forties. 'Striker' was the first Calypsonian to win the Calypso Monarch Competition for two consecutive years, 1958 and 1959. Looking dapper, consistent with the look of the 'old time' Calypsonians, 'Striker' sang his winning 1959 renditions of "Ban the Hoola Hoop" and "Comparison." Certainly, the audience was reminded of why he deserved his one thousand dollars and silver trophy first prizes that year.
Also gracing the stage was Hollis 'Chalkdust' Liverpool, Calypsonian, teacher, historian, writer and eight-time winner of the Calypso Monarch Competition. Born in 1941, around the time when the Steelpan was still taking root in the country, Chalkdust was destined to become one of the most successful Calypsonians in Trinidad and Tobago history. Some of his winning songs include "Three Blind Mice" and "Ah Put on Meh Guns Again" (1976), "Juba Dubai" and Shango Vision" (1977), " Ah Can't Make" and "My Kind of Worry" (1981), "Chauffeur Wanted" and "Carnival Is the Answer" (1989), "Kaiso Sick in de Hospital" and "Misconceptions" (1993), "Fish Monger" and "Trinidad in the Cemetery" (2004), "I in Town Too Long" and "Ah Doh Rhyme" (2005), and "Doh Touch My Heart" (2009). 'Chalkdust' proudly delivered some of his most popular songs with a touch of his infamous smooth, sideways slide dance on the NAPA stage.
When the Queen of Calypso, McCartha 'Calypso Rose' Lewis, made her entrance on stage she was greeted with thunderous applause. 'Rose', born on April 27th, 1940, in Bethel, Tobago was the first female to win the Road March title in 1977 with her rendition of "Tempo" which she delivered to the NAPA audience receiving much approval. She also rendered perennial favorites "Fire In Meh Wire" (1965), "Her Majesty" (1978) and "I Thank Thee" (1978). She proudly pointed out that she was not only the first female Calypso Monarch, but was the first Calypso Monarch ever – the name changing from Calypso King with the anticipation of her victory that year. Calypso Rose also won the Calypso Queen Competition for five consecutive years from 1974 to 1978 and has written over eight hundred songs altogether. Looking strong and physically fit, Rose delivered an outstanding performance commanding the attention of the audience with her usual dancing, chanting and catchy lyrics.
Arguably the most touching moment was when Calypso King Dr. Slinger 'Mighty Sparrow' Francisco appeared on stage. Also known as the 'Birdie', the Grenadian-born seventy-five year old, although visibly ill, still had the vocal strength and the courage to grace the NAPA stage. Before this though, players from Creative Arts U.W.I. delivered a remarkable theatrical presentation of his 1960 winning Calypso "Ten To One Is Murder". The song is said to be inspired by true a true event involving Vernon Ottley, his lady friend Miss Kent and The Mighty Sparrow. As Caldwell Taylor in "Sparrow and the Arithmetic of Self-Defense Ten To One Is Murder" tells us,
The trouble that inspired "Ten to One" got started when, according to Vernon Ottley, Sparrow threw a lecherous gaze on Miss Kent, Ottley's "girl", who hailed from (Paradise) Grenada. Naturally Vernon asserted his property rights and objected to the bard's trespass. Heated words were hurled into the sweated air inside the Miramar and Sparrow and his buddy, Calypsonian Lord Creator, very wisely decided to cut out. Vernon and his crew gave chase; they were all wearing their garlic-smeared razors.
Too weak to stand, Sparrow sat though his performances. This situation was distressing to many who were saddened to see the 'Birdie' in such an unusual position. However, his voice was still as one could have remembered, which mitigated the situation to some extent. On the second night, although still ill, the legend was joined by 'Calypso Rose', Erphaan Alves, Fede, Roderick 'Chucky' Gordon, Kurt Allen, Duane O'Connor, Kwesi Jeffers and players from Creative Arts U.W.I. Their presence helped a great deal to liven Sparrow's spirits and their combined performance gave the audience a treat to forever remember. Songs included "Jean and Dinah" (1956) "Mae Mae" (1960) and "Congo Man" (1965) which the audience lustily sang along to. Although no longer as vibrant as he used to be the 'Sparrow' that we've all grown accustomed to and enjoyed over the years would always remain with us.
Contributing to making the event a memorable one were Earl Brooks, who played the Steelpan with dexterity and grace accompanying artistes Kurt Allen and Winston 'De Fosto' Scarborough; background vocalists, Adanna, Cindy, Louisa, Michell and Patricia; and Enrique Moore and the members of the Trinidad and Tobago Police Band.
Overall, this event was well-organized and well-presented. The storylines in the theatrical presentations and the performances of the Calypsonians both young and old clearly defined what was intended: a vision of Trinidad and Tobago though Calypso history. Certainly, all in attendance would be happy to remember part of the evolution of our country's music and would hopefully continue to propagate this history for years to come.