TriniSoca.com Reporters
February 10, 2010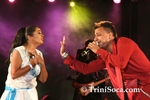 Ravi Bissambhar popularly known as 'Ravi B' was crowned the Chutney Soca Monarch 2010 for his winning performance of "Ah Drinka", becoming the youngest ever Chutney Soca Monarch. Members of the the audience as well as viewers worldwide overwhelmingly voted by text for Ravi B, who tallied 9575 votes to win the $200,000 first prize. Ravi B, who came second last year excited the crowd with his song which told of marital difficulties between a young couple that was caused by the husband's love for drinking and liming:

"Yuh cyah change meh, no way,
Gul U know I was ah drinka, U always know I was ah drinka.
Yoy kya change meh, no way,
Gul U know I was ah drinka, U always know I was ah drinka,
You only telling me, what I should do and say (2)
Just how your mother have your father
(Chorus)
Gul you know I was ah drinker, U always know I was ah drinka."
In second place was veteran singer and five time winner Rikki Jai with his song "Bar Man" taking home a $100,000 prize while young Moses Charles, who has been enjoying a good season with "Indrani" gave a strong performance which earned him third place. Kris Persad employed moko jumbies to portray Sunita and Nadia in his performance of his song "Cath Meh Lover" as he rode a white horse on stage. He placed 4th with a vote tally of 1988 votes. Omardath Maharaj placed fifth with "Millitary Bacchanal" while Lalchan 'Hunter' Babwah was sixth with his song "Puncheon".
Organised by Southex Promotions, the 2010 Chutney Soca Monarch opened with the Shiv Shakti dancers giving their usual colourful performance under the direction of Michael Salickram. They were followed by Anil Bheem and Soca singer Shurwayne Winchester who warmed the audience up with a couple of songs. After a short firework display which was enjoyed by the audience from their screams and applause, it was time for the competition.
Last year's winner Kenneth Salick, accompanied by his dancers, kicked off the competition singing a Chutney love song "How long I will wait", which earned him 7th place. Other finalists included three-time winner Heeralal Rampartap singing "Reviver", 'Soca Elvis' ("Rum Doh bother Me"), Neeshan 'Hitman' Prabhu ( b]"Spanna"[/b]), Andy Singh ( b]"Gyul from India"[/b]) and Derrick Seales ("Chutney Lover").
For the second straight year, the results were determined entirely by the audience who texted their choices which were then tallied to determine the winners. This judging system was implemented because of the protests against the judges decisions in previous competitions. Over 35,000 persons voted in over 50 countries to decide the winners.
The finalists went all out in their efforts to capture the crown and the $200,000 first prize. They employed skits, moko jumbies, dancers and other props in their efforts to capture the attention of the audience. Also performing on the night were top Chutney bands including Karma, T&TEC Gayatones and Spread Pal Crew. The large crowd at Skinner Park thoroughly enjoyed the show as they danced and had a time into the wee hours of the morning.
Results
Chutney Soca Monarch 2010 RAVI B – 9575
2nd place\ RIKKI JAI – 4872
3rd place\ MOSES CHARLES – 2060
4th place\ KI PERSAD – 1988
5th place\ OMARDATH MAHARAJ – 1641
6th place\ HUNTER – 1489
7th place\ KENNETH SALICK – 1400
Chutney SOCA Monarch 2010 Videos
By Southex Promotions…
Moses Charles – "Indrani"

Kenneth Salick – "How Long"

Ravi B – "Ah Drinka"

Rikki Jai – "Barman"

Omardath Maharaj – "Millitary Bacchanal"

Derrick Seales – "Chutney Lover"

Soca Elvis – "Rum Doh Bother Me"

Heeralal Rampartap – "Reviver"

Hunter – "Puncheon"

Kris Persad – "Catch Meh Lovah"

Andy Singh – "Girl From India"

Hitman – "Spanna"