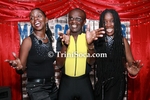 Anthony 'Allrounder' Hendrickson launched his 2010 CD at the Nu Pub (Mas Camp Pub) on January 06, 2010, with the support of many fans, friends and fellow Calypsonians. In fact, so much was the support that the venue was full to capacity.
This CD, although currently untitled, has already a breakthrough hit, "Ah Female Life Guard" with its catchphrase "dive." Diving, Allrounder promised, is what his female fans would do once they hear this new double entendre piece, which is intended for them.

Allrounder said that he is cognizant of his success in the Calypso business and is proud of his status as a veteran but says that his success is largely due to the support of his wife. Through their almost fifty years of marriage, his wife, Wilma 'Mama' Hendrickson, helped to co-write several of his songs including 2010 tunes "Ah Female Lifeguard" and "Doh Treat Meh So" which speaks about Trinidad's neglect of Tobago.
There to support the vivacious veteran showcasing their own Calypso material were Guidance, Dr. Will B, Mark 'Contender' John, Morel 'King Luta' Peters, Eric 'Pink Panther' Taylor, Dennison 'D Diamond' Moses, Winston 'Gypsy' Peters, Edwin 'Crazy' Ayong and daughters Diane 'Lady Wonder' Hendrickson and Shirlane Hendrickson.
Anthony 'Allrounder' Hendrickson ended the celebratory launch with a few of his legendary hits including "Jimmy Swaggart" and his new 2010 releases "Ah Female Lifeguard" and "Doh Treat Meh So" which sent the audience wild. Based on the audience response, we can expect a great year for Allrounder in the music scene.