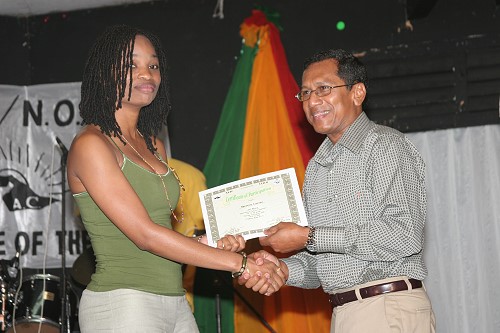 Shereen Caesar receives her cash prize from Mr. Peter Adams of Republic Bank
TriniSoca.com Reporters
Event Date: December 28, 2006
Posted: December 31, 2006
The National Youth Action Committee held its Annual Young Composers Competition and Annual Emancipation Competition prize-giving ceremony on Thursday 28th December, 2006, at the SWWTU Hall on Wrightson Road, Port of Spain. The audience mainly included the participants of the two competitions, their parents and their supporters.

The MC's were Mrs. Dela Obika, President of the National Women's Action Committee and Mr. Oji Borel.
Mr. Nyahuma Obika, Deputy Political Leader of NJAC began the proceedings with a prayer followed by addresses by Brother Akhenaton Dagga and Mr. Peter Adams, representative of the Republic Bank.
Servant President of NYAC, Brother Akhenaton Dagga, was the first to address the gathering. According to Mr. Dagga, both competitions were held after the Carnival season because it is NYAC's position that Calypso should not be pigeonholed as a seasonal music. He also stated that NYAC also believes that the future of Calypso music is in the hands of the youth and so the entry age for these competitions is as young as 5 years old. NYAC, according to Mr. Dagga, has also focused on the young composers so that when our Calypso legends have passed on, the young one's, who would have the ability to compose their own songs and create their own melodies, would replace them and carry on the Calypso tradition.
Dagga also informed the audience that in the past, Calypso music, which was so instrumental in the African struggle, was not sung during Emancipation so NYAC decided that they would provide a forum for this to take place to popularize this trend and to encourage the youth to research and present their ideas in Calypso.
Additionally, Mr. Dagga mentioned that these competitions have proven to produce good artistes such as Sheldon Reid and Bryan London who are examples of the success and quality of the programme. He ended his address by promising that this night would be a night that we would all remember.
Following Mr. Dagga's speech was a brief address by Mr. Peter Adams, representative of one of the major sponsors of the night, Republic Bank. Mr. Adams intimated that it was a privilege that the NACC and Republic Bank could work together on a shared vision to develop the community. According to him, they have had a long history of working together and hopes that they would continue this relationship in the future. He also stated that it was regrettable that there was a decline in the quality and young people's interest in the Calypso art form coupled with rising crime. However, the competitions held by the NYAC have provided an opportunity for the youth to turn to positive activity and develop the culture of their country.
Following his address, the artistes presented a verse and chorus of their songs and received their prizes with awards based on their placement. The results for the two competitions are as follows:
Young Composers 5-16 years
Place / Artiste / Song
1st / Jael Paul / "The True Answer"
2nd / Ferdinand Smith / "Fisherman"
3rd / Tenaj Smith / "Jus Me"
4th / Khadeece Celestin / "Crime"
5th (tie) / Jaylana Bryan, / "My Advice"
5th (tie) / Megan Walron / "Why I Change Meh Song"
7th / Angel Prescod / "Sit Down"
8th / Amirah Augustine / "Soca Warriors"
Young Composers 17-30 years
Place / Artiste / Song
1st / Jervae Caesar / "For You"
2nd / Corey Burke / "Love Thy Neighbour"
3rd / Arnold Jordan / "Wake Up"
4th / Ricardo Learmont / "Keep on Rising"
5th / Cindy Alleyne / "Stop Mr. Man"
6th / Amrika Mutroo / "Let's Find a Way"
7th / Richard Dickson / "Redeem"
8th / Marion Paponette / "Congratulations"
9th / Andrew Prescod / "Move On"
10th / Frank Moore / "Where Have Our Heroes Gone?"
Extempo
Place / Artiste
1st / Corey Burke
2nd / Frank Moore
3rd / Nkosi Anyika
4th / Shereen Caesar
Emancipation 5-16 years
Place / Artiste / Song
1st / Megan Waldron / "Rise Up Children"
2nd / Ferdinand Smith / "Living in Slavery"
3rd / Shinesse Simmons / "Beyond the Mountain"
4th / Jaylana Bryan / "Encore, Encore"
5th / Tenaj Smith / "Teach Me"
6th / Jael Paul / "Be A Proud African Woman"
7th / Yasin Akil Rashid / "Emancipation"
8th / Kwesi Charles / "Emancipated"
9th / Whitney Moore / "We Ready"
Emancipation 17-30 years
Place / Artiste / Song
1st / Shereen Caesar / "Forgive Me Africa"
2nd / Arnold Jordan / "Drums of Faith"
3rd / Corey Burke / "Africans & Negroes Part II"
4th / Marion Paponette / "Freedom Come"
5th / Muga Hill / "Africans Come"
6th / Jervae Caesar / "Why Yuh Want to Carry Meh"
7th / Frank Moore / "The Forgotten"
8th / Cindy Alleyne / "Africa is All Ah We"
The night ended with a final performance by the winner of the Emancipation 17-30 years competition, Shereen Caesar. Members of the audience, which included her fellow competitors, joined her on stage for the close of the prize-giving ceremony for the year 2006.
NYAC Prize Giving Ceremony 2006 in pictures:
www.trinisoca.com/gallery2/main.php?g2_itemId=253