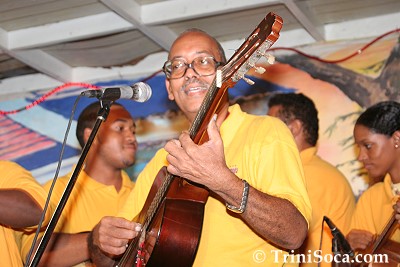 Members of the Amantes de Parranda Parang group
TriniView.com Staff Article
Event Date: December 09, 2006
Posted: December 12, 2006
On Saturday 9th December, 2006, Parang lovers were given a treat at the Maracas – St. Joseph Community Centre. Large crowds of people assembled inside and outside the Community Centre to listen to Parang by six of the top bands in the country. Although the rain was threatening, people stayed on for most of the show.

The MC's were Mr. Hollis Cielto and Mr. Farouk Khan whose co-partnership worked well throughout the night.
After a group rendition of the National Anthem, Mr. Hollis Cielto began the programme with a prayer wishing the people of Maracas and its visitors a productive life and wished also for the longevity of Parang.
Co-MC, Mr. Farouk Khan, gave the people a brief history of Maracas, St. Joseph with its heavy Spanish influence. Mr. Khan explained that Maracas Valley, a place of incredible natural beauty, has very strong links to Hispanic culture. In addition, the village of Maracas, St. Joseph, formerly referred to as St. Jose de Aruna, was an area that had direct influence in other parts of the world. For example, as Mr. Khan pointed out, General Francisco de Miranda orchestrated South American Independence at the Williamsfield Estate in the village, circa 200 years ago. It was in Maracas village that he designated the colours red, yellow and blue to the Venezuelan flag.

Parang in Maracas, St. Joseph with Los Pastores Parang Group
Mr. Khan went on to state that Parang music, which largely came about as a result of Venezuelan and Spanish influences, is still very much alive in villages such as Maracas. Thus, the celebration of Parang at the Community Centre was a celebration of a tradition that has been able to be maintained for over three centuries.
The six bands that performed during the programme were: Las Buenos Nuevas Parang group, Maracas Serenaders Parang group, Amantes de Parranda Parang group, Los Pastores Parang group, La Familia de Rio Claro Parang group, and T&TEC San José Seranaders.
The night's atmosphere was filled with festivity including plenty of food and drink. Along with dancing to the Parang music, some members of the audience brought their musical instruments and accompanied the Parang bands, adding to the sights and sounds.
The Parang season is far from over and it is certain that the village of Maracas and its representatives would continue to share much joy throughout the season.
Parang in Maracas, St. Joseph in pictures:
www.trinisoca.com/gallery2/main.php?g2_itemId=1657