Profile of Anthony 'Almanac' Francis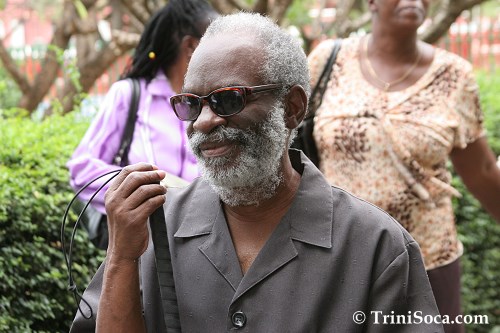 Anthony 'Almanac' Francis Born: 20th August, 1942 - Passed: 06th November, 2009
November 19, 2009
Calypsonian 'Almanac' (Anthony Francis) passed away on November 6th 2009, at the Port of Spain General Hospital around 9:30 p.m. due to suspected liver cancer. His funeral was held Wednesday, November 11th, 2009, at the Cathedral of the Immaculate Conception on Independence Square, Port of Spain. He was interned at the Woodbrook Cemetery. Fellow Calypsonians as well as family and friends were in attendance as 'Almanac' was laid to rest.
The Calypsonian, born in St. Lucia on August 20th 1942, became blind at a young age and began singing and composing Calypsos while attending the School for the Blind in Santa Cruz, Trinidad. He began to sing professionally in 1962 with the Independence Brigade Calypso Tent.
Throughout his career he sang under several Calypso Tents including Sparrow's Young Brigade, Stalin's Calypso Court, Kitchener's Calypso Revue, Kaiso House and Klassic Ruso. The late Calypsonian, most popularly known for his song "Build A Better World", composed hundreds of Calypsos and was a teacher to many budding Calypso artists. Below is a brief profile of the life of 'Almanac'.
Profile delivered at Funeral
Almanac is a sight impaired Calypsonian who in the 1960s began his career in entertainment as a composer/performer when he participated in an event to raise funds for the victims of Hurricane Donna.
He actually made his Calypso debut in 1962 and released his first single recording in 1976 containing songs "Build A Better World" and "False Prophets". His second recording was released in 1981 and it offered songs such as "Sweet Soca Music" and "Flatter to Deceive". He produced and released his first CD album entitled "Songs for a Better World" in 1998.
Almanac has hosted his own concert every year since 1975 the most recent being in 2002 at the Mas Camp Pub in Woodbrook before appreciative audience of fans, well wishes and his peers in the Calypso fraternity. He established ANTHALMAC Promotions and Publishing Company in 1995.
He was honoured in 1987 by Air Enterprises and Angostura Limited to mark his 25th anniversary as a Composer/Performer. In 1997 the National Carnival Commission (NCC) paid him tribute for his contributions to Calypso at the Trinidad and Tobago leg of the Caribbean Song Festival, and organizers of the concert — A Nation's Pride — 36 years of the Calypso Monarch presented him with an award at the event held in August of that year.
In June 2002, Almanac had the distinction of being commissioned by the Office of the President of Trinidad and Tobago to compose an appropriate song to mark the establishment of the Caribbean Criminal Court and the role played by President Arthur N. R. Robinson in its formation. He presented the work the song titled "Justice For All" at the function at the President's House on Tuesday 2nd July, 2003.
Almanac has performed on various occasions with Kitchener's Calypso Revue, Sparrow Original Young Brigade, Kaiso House and was based at the Klassic Ruso Calypso Tent for a number of years up to the time of his passing. Almanac has over three hundred (300) compositions to his credit.
Some better known songs are:
Thru the Eyes of a Child
Justice for All
Heroes of Our Land
Build a Better World
False Prophet
One for Aneisha
The Best Republic
Until
Smart Cashier
Anarchy or Liberty
Manking's Contradiction
Sweet Exotic Soca Music
Nation in the Sun
Flatter to Deceive
Sing One for Ato
West Indian Girls 2
My Uncle Woes
The Spell
One of his many accomplishments he is extremely proud of is the successful running of a Calypso Work Shop which was held in 1991 between May to July for YTEPP by Anthony 'Almanac' Francis and Fred 'Composer' Mitchell.
Anthony 'Almanac' Francis' Wake and Funeral in pictures:
www.trinisoca.com/gallery2/main.php?g2_itemId=172202