Ronnie and Caro Launches 'Tribute'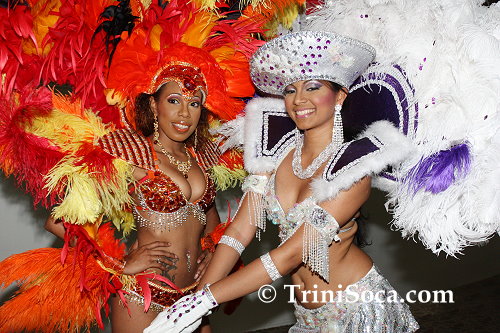 Models present Fire Bird and Fancy Sailor
TriniSoca.com Reporters
Event Date: August 29, 2009
Ronnie and Caro held the launch of their Carnival 2010 presentation on 29th August, 2009, at the St. Johns Entertainment Centre Wrightson Road, Port of Spain. Led by the husband and wife team of Ronnie and Caroline Mc Intosh, the band gave the audience a scintillating glimpse into their 2010 offering titled "Tribute". The concept involves paying tribute to various icons of mas who have contributed immensely to the Carnival landscape.
There are nine sections in Tribute:
Firstly, there is the "Fancy Sailor" section dedicated to Jason Griffith and Diamond Jim (George Harding). Jason Griffith, one of Trinidad and Tobago's renowned mas men was very much influenced by Harding, who was the unofficial King of Sailor Mas. The contributions of these two stalwarts are reflected in this eye-catching white and silver costume.
The second section is "City of Gold: Tribute to Harold Saldenah" who copped six Band of the Year titles. This brilliant yellow section is named after one of his most famous presentations in 1968 which copped the title that year.
The third section is titled "We Kinda People" and is in tribute to Stephen Lee Heung, a very successful bandleader.
The fourth section is "Firebird: A Tribute to Wayne Berkeley". This giant mas man captured eleven Band of the Year titles over the years.
The fifth section is "Africa: A Tribute to George Bailey". With soft earthly colors this section invokes the memory of this mas icon whose 1957 presentation of "Back to Africa" is one of the most memorable presentations of all time.
The sixth section is "Wonders of Bucco Reef: A Tribute to Irvin McWilliams". With turquoise and green colors, the rippled fan-like costume is certainly reminiscent of the beauty of Bucco Reef.
The seventh section is "Hummingbird: A Tribute to Peter Minshall". The beauty of the hummingbird with its interplay of colour and movement comes alive in this section in tribute to this veteran mas man.
The eighth section is "Saucy in the Marketplace: A Tribute to Raoul and Brenda Garib". The headdress of this costume is adorned with various fruit and multicolored beads decorate the costume.
The ninth section is "Fun Lovers: A Tribute to Edmund and Lil Hart" founders of Harts mas band.
The costumes were brought to life by the models and by the enthusiasm shown, greatly appreciated by the audience. By the looks of their presentation, Ronnie and Caro's success in the Medium Band Category will continue.
For more information visit their website at www.ronnieandcaro.com
Ronnie and Caro's 2010 'Tribute' Launch in pictures:
www.trinisoca.com/gallery2/main.php?g2_itemId=162247