Dream Team 2010 Carnival Launch 'Gems'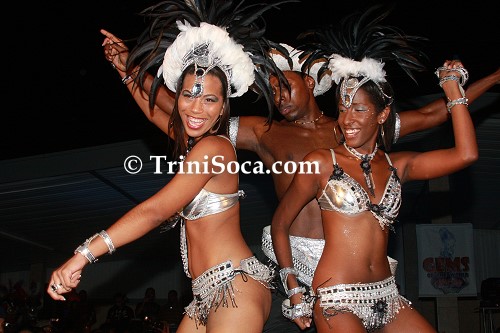 Models present 'Crystal Crush'
TriniSoca.com Reporters
Event Date: September 19, 2009
Dream Team launched their 2010 Carnival band titled "Gems of the World" or "Gems" for short, on September 19, 2009, at the St. Johns Entertainment Centre Wrightson Road, Port of Spain.
After several hours of mingling and friendly association, the action began with some of the contestants for Miss World Trinidad and Tobago showcasing themselves to the public. Their stint on stage was brief, but the crowd seemed pleased with the crop of Miss World Trinidad and Tobago participants, one of which would represent Trinidad and Tobago on the world stage.
Soon after, spectators got to witness the costumed "Gems" who excitedly paraded the stage. Bright, feathered and bejeweled costumes titillated observers, many of whom may wear these costumes for next year's Carnival celebrations. The sections included: Crystal Crush, Blue Diamond, Amethyst, Jurassic Amber, Ruby, Emerald, Gem of the Caribbean, Onyx and Rubellite.
According to Pat Garcia, Dream Team communications director, one of the main focuses of their 2010 Carnival is the comfort of patrons including good food and drinks, music and security as well as comfort in masquerader's pockets with their "Stimulus Group Package" for their loyal supporters. Those who wish to take advantage of this offer may need to act with haste for the offer ends on November 16, 2009.
For more information on Dream Team contact them at:
info@dreamteamtnt.com
Visit their website: http://dreamteamtnt.com.
See their facebook page:
www.facebook.com/pages/Dream-Team-Carnival-Band/18850088465
Dream Team 2010 Carnival Band Launch: 'Gems' in pictures:
www.trinisoca.com/gallery2/main.php?g2_itemId=165403