Dream Team 2009 Carnival Launch 'One'
Models show costumes at Dream Team 2009 Carnival Launch


TriniSoca.com Reporters
Event Date: October 10, 2008
Posted: October 22, 2008

The Carnival Band Dream Team launched their 2009 Carnival presentation titled "ONE - Different Cultures, One People", on Friday, October 10, at the St. Johns Entertainment Centre, Port of Spain. According to a release, the Dream Team Carnival Committee was formed in July 2005 to represent Poison at Carnival related events outside of Carnival time. With the dissolution of Poison, Dream Team (the band) was formed in June 2006. Under the leadership of Paul Singh the committee also comprises Wendell Newallo, Adam McKell and Pat Garcia.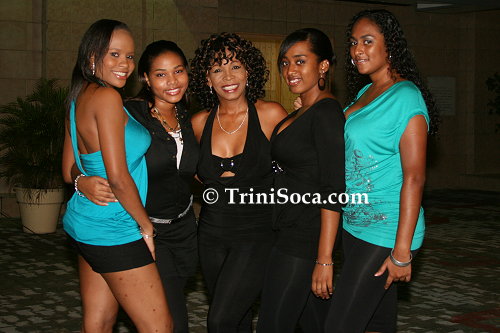 Pat Garcia (Centre) among family and friends


Pat Garcia shared that the presentation "One" signifies different cultures all culminating in Trinidad and Tobago and the Caribbean to form one unique people. She further shared that the people from all over the world are the blend that make up what Trinidad and Tobago is about. For those interested in playing in the band, Pat said that masqueraders can look forward to good organisation, top deejays, excellent entertainment, sumptuous nutritious meals and an excellent bar that caters to the needs of the masqueraders.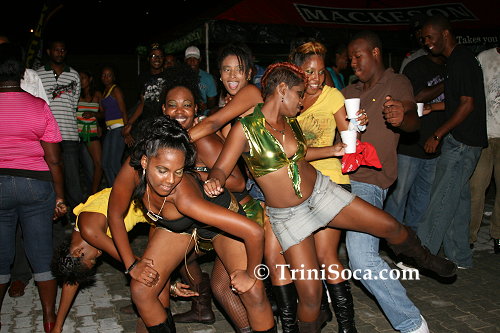 Patrons at the band launch


Excited patrons started to fill the areas around the stage as the deejay played a number of Soca and Dancehall tracks to warm up the crowd. It was at 1 a.m. that the action got going with the costumed sections of the colourful depictions from China to India, to Africa to Europe, Latin America to the Caribbean, gracing the stage. The crowd cheered on the models representing the different sections, who needed little encouragement to dance and entertain the audience.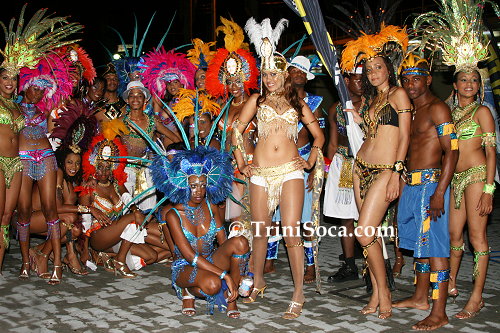 Models show costumes at Dream Team 2009 Carnival Launch


The ten sections presented on the night were:

1) Shanghai, with the colors green and gold, designed and produced by Ken Defreitas. This section represents the Chinese Culture.

2) Mayan Sunrise, with the colours blue, yellow and gold, designed and produced by the Dream Team Design Crew and representing the richness of the ancient South American peoples whose creativity and skills were and still is a sight to behold.

3) Coco Panyol, with the colours orange, white and blue, designed and produced by Chris Thomas. This section exhibits the passion and excitement that the Latin South American countries are famous for.

4) Vive Le France, with the colours blue, fuchsia pink and white, designed and produced by Burton Evans. This section gives a glimpse of the French input in the life of a Trinidadian.

5) Egyptian Dance, in the colours white and gold, designed and produced by Colin Jackman. This section exposes the mystery and beauty of the Land of Kings.

6) Mulatto, in the colours of various shades of blue, designed and produced by Yanna Phillips. This section creates the link by way of the Caribbean Sea to the different ethnic races that make up the Caribbean.

7) Mariachi, in the colours red, silver and brown, designed and produced by the Dream Team Design Crew. This section displays the happy exciting people from "South of the Border, down Mexico Way".

8) Sahara, in the colours black and gold, designed and produced by the Dream Team Design Crew. This section represents the many different cultures from Africa that stamps the strongest impression on our cultural background.

9) Turkish Delight, in the colours mahogany and gold, designed and produced by the Dream Team Design Crew. This section speaks for the European continent and all its rich diverse cultural expressions.

10) Asian Delight, in the colours purple, silver and red, designed and produced by the Dream Team Design Crew. This section represents all the exotic and indigenous cultures that make up the Asian continent.

For more information visit the Dream Team website at http://dreamteamtnt.com

ONE: Dream Team 2009 Carnival Band Launch in pictures